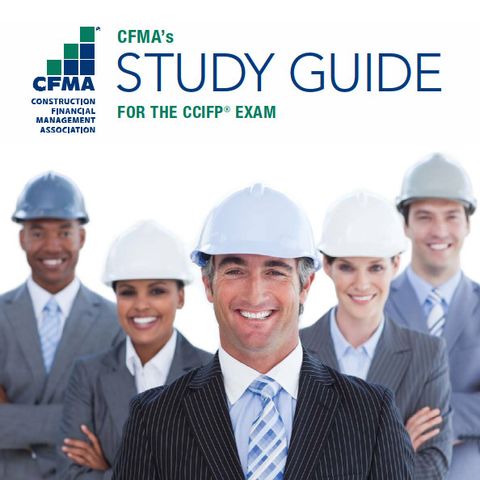 CCIFP Study Guide
$119.00

Member price: $89.00
Purchasing on behalf of another customer?
If you are interested in purchasing any product on someone's behalf or you need to place a bulk order, please contact Mike Elek at (609) 945-2412 or at melek@cfma.org.
Preparatory Guide for the CCIFP Exam
CFMA's CCIFP Study Guide was designed for you, based on input from CCIFP candidates, recently certified CCIFP's, and Subject Matter Experts.
This interactive study guide provides a power-packed toolkit that supports your learning, applying, and studying of CCIFP content. In addition to highlighting the eight knowledge areas tested on the exam, the guide includes study activities, best practices, and test taking strategies.
What's more, the guide incorporates today's technology enabling you to study on your own schedule and at your pace. You just need an Internet connection! Use your mobile device to learn, study and test your CCIFP knowledge with the Flashcards and Practice Exams. With rich content and valuable support tools like the Self-Assessment, Study Plan, and Glossary, this guide will make your study efforts more effective, increase the chances of your success on the exam, and support your overall professional development.
IMPORTANT NOTES
This is an all-electronic product and replaces the printed booklet, which is no longer available. After purchase, you will receive an e-mail with instructions on how to access this online guide. No product will be mailed to you.
The CCIFP Study Guide is included with the purchase of the CCIFP Overview Seminar. For more information about this Online Course, please visit click here.
Upon purchasing the CCIFP Study guide, you will have direct access to downloadable Study Guide materials. We highly recommend you begin preparation with the CCIFP Study Guide itself, in conjunction with companion materials like the Study Plan Worksheets, Flashcards, and Self-Assessment, prior to taking the Practice Exam.
If you have already purchased and used the CCIFP Study Guide, we'd love to hear your feedback! Please complete the free online evaluation by visiting our survey form.
Access Your Content
Your content is available here:
| # | Filename | Size | |
| --- | --- | --- | --- |
| 1 | Study_Plan_Worksheet_2.doc | 54KB | |
| 2 | Using_Study_Guide_Flashcards.docx | 486.3KB | |
| 3 | CCIFP_Study_Group_Best_Practices.pdf | 105.5KB | |
| 4 | SG_Create_an_Outline.doc | 34.5KB | |
| 5 | SG_Proficiency_Self_Assessment.docx | 77.8KB | |
| 6 | Study_Plan_Worksheet_1.xlsx | 79KB | |
| 7 | CCIFP_Study_Guide_Glossary_10-18-17.pdf | 116.7KB | |
| 8 | 2021_CFMA_Study_Guide.pdf | 2.5MB | |