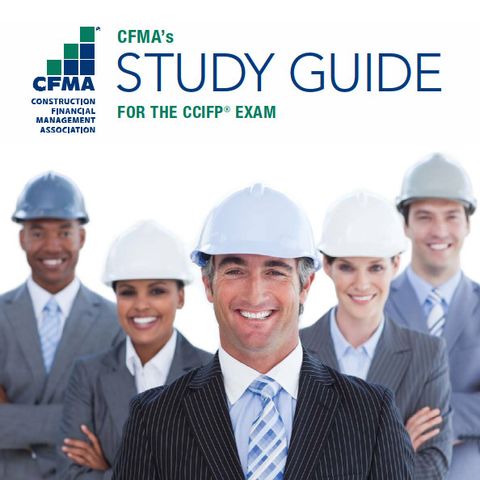 CCIFP Study Guide
$119.00

Member price: $89.00
Purchasing on behalf of another customer?
If you are interested in purchasing any product on someone's behalf or you need to place a bulk order, please contact Mike Elek at (609) 945-2412 or at melek@cfma.org.
Preparatory Guide for the CCIFP Exam
CFMA's CCIFP Study Guide
The Certified Construction Industry Financial Professional credential exam went through an overhaul to better reflect the changes to the industry. To keep up with these changes, CFMA has updated and improved the CCIFP Study Guide to help future CCIFPs achieve their certification goals. This resource was designed for you, based on input from CCIFP candidates, recently certified CCIFP's, and Subject Matter Experts.
The CCIFP Study Guide's improvements include ASC 606, more on income recognition, succession planning, and an expanded focus on information technology. Plus, the resources are mobile! Designed to work on a variety of screens, including your smartphone, your studying can happen whenever you have free time!
This interactive study guide provides a power-packed toolkit that supports your learning, applying, and studying of CCIFP content. In addition to highlighting the eight knowledge areas tested on the exam, the guide includes study activities, best practices, and test-taking strategies.
What's Included:
Self-Assessment Tools to gauge where you are on your study journey
Over 570 Flashcards that are accessible mobily for reviewing any time you have a spare moment, organized by domain
Suggested Study Plans to guide you through all the updated Knowledge Domains
Glossary for a quick reference
Practice Exam that's been expanded by 40% with new questions and formatted for mobile test-taking
IMPORTANT NOTES:
This is an all-electronic product. After purchase, you can access the Study Guide components directly from your account under CFMA Store/Content & Purchases for easy 24/7 access.
You will have direct access to downloadable Study Guide materials and links to the mobile tools: Flashcards and Practice Exam.
The CCIFP Study Guide is included with the purchase of the CCIFP Overview Seminar.
Access Your Content
Your content is available here:
| # | Filename | Size | |
| --- | --- | --- | --- |
| 1 | SG_Create_an_Outline.doc | 34.5KB | |
| 2 | 2022-2023_CFMA_Study_Guide.pdf | 1.4MB | |
| 3 | Study_Guide_Mobile_Tools_Links_2022.pdf | 583.5KB | |
| 4 | The_Book_indepth_TOC.pdf | 340.2KB | |
| 5 | CCIFP_Study_Group_Best_Practices.pdf | 105.5KB | |
| 6 | Study_Plan_Worksheet_1.xlsx | 77.5KB | |
| 7 | Study_Guide_Self_Assessment_2022.docx | 86.9KB | |
| 8 | Read_Me_First-Study_Guide.pdf | 530.3KB | |
| 9 | Study_Plan_Worksheet_2.doc | 54KB | |
| 10 | 2022-2023_CFMA_Study_Guide.pdf | 1.4MB | |