In 2018, then-CFMA Chairman Joe McLaughlin wanted to recognize members who do exceptional work for CFMA, but whose efforts might not be acknowledged at the Executive level. He was reminded of the military tradition of the challenge coin – a small medallion or token that signifies a person is a member of an elite group. Since then, CFMA Executive Committee members have followed the tradition of giving out a limited number of CFMA Chair's Challenge Coins to CFMA members who exhibit service and excellence to CFMA.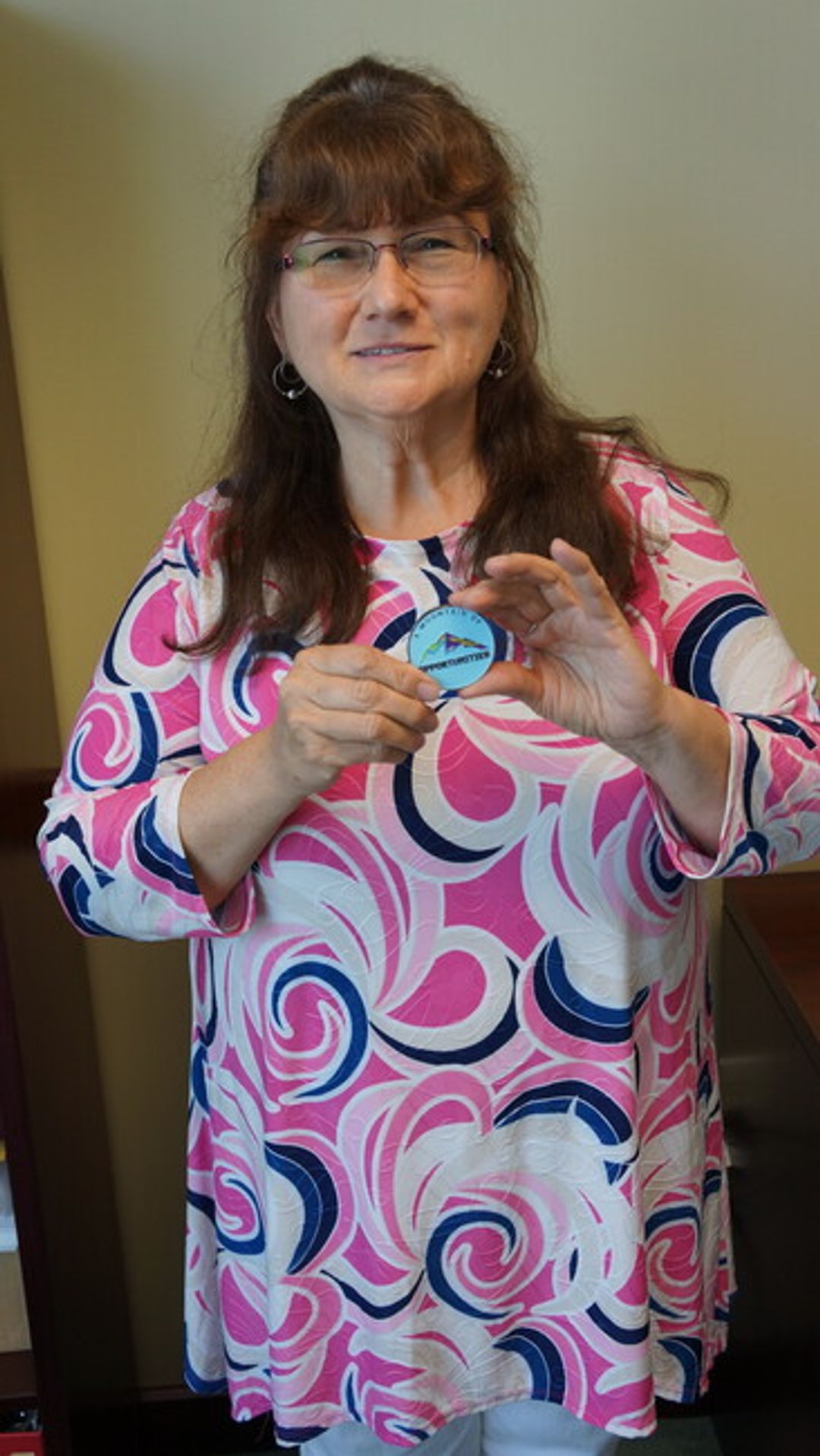 Elizabeth Lachowicz, Lead Instructional Designer, CFMA, Princeton, NJ
On April 4, 2023, Stephanie Magenau, Controller, Construction Engineers, Inc. presented Elizabeth Lachowicz with the CFMA's Challenge Coin.

When asked why Stephanie chose Elizabeth she said, "I have chosen Elizabeth for her contributions to the CFMA Emerging Leaders Program. Elizabeth wasn't involved at the program's inception, but she has jumped in to learn the program and offer suggestions for improvement. Her enthusiasm is contagious and her support to participants is a great addition to the program."
Steve Foster, SVP, Marsh McLennan, Dallas, TX
On March 14, 2023, Joe McLaughlin, CFO of Austin Industries, presented Steve Foster with the Chairman's Challenge Coin.

When asked why Joe chose Steve he said, "Because of Steve's passion, dedication, and leadership over the Dallas-Fort Worth Chapter's Golf Tournament. For the past decade, rain or shine, the golf tournament annually tees off with a near-capacity field. Steve's promotion and execution of the golf tournament have allowed the Chapter to provide educational opportunities to its members, conference registrations, certification reimbursements, as well as providing scholarship money to students pursuing a construction-related degree. Thanks for all you have done for the DFW Chapter!"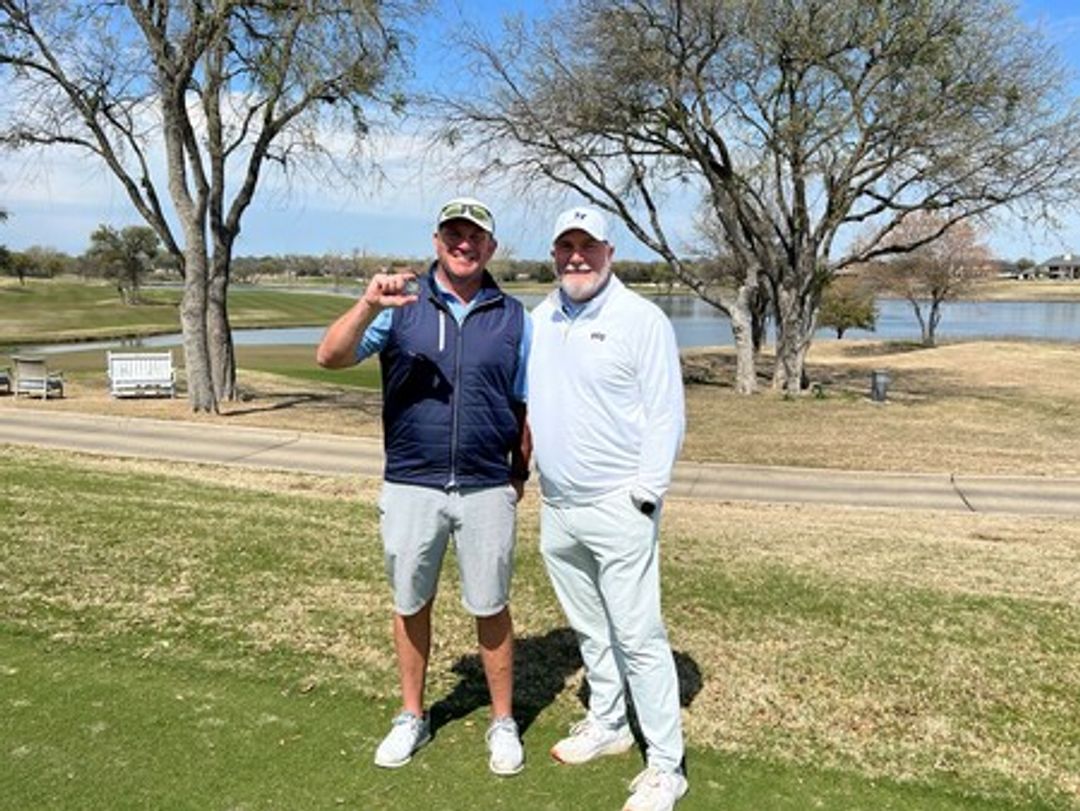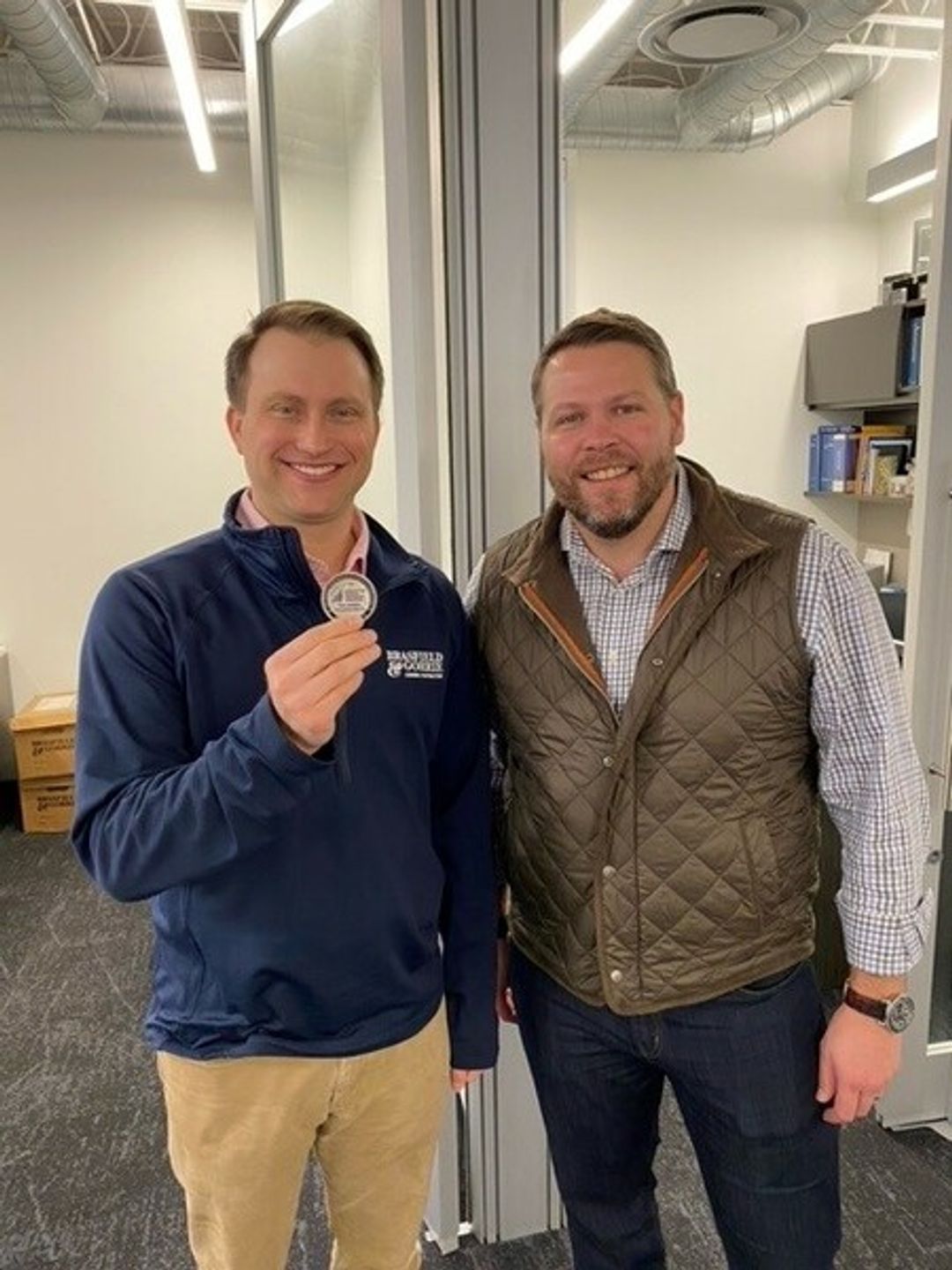 Jeff Krogsgard, VP, Controller, Brasfield & Gorrie, L.L.C, Birmingham, AL
On February 3, 2023, Gaines Moorer, Vice President, Lakeview Risk Partners, presented Jeff Krogsgard with the Chairman's Challenge Coin.

When asked why Gaines chose Jeff he said, "Jeff embodies what the challenge coin represents. He is a dedicated leader that has done a great job leading the AL chapter, currently in his second year as the AL chapter president. He has worked with the AL board to restructure and organize the chapter for growth while serving on the regional conference committee. He is very active in the local community and has gotten the chapter involved in some local charitable functions, while significantly growing the general membership of the chapter."
John Moran, CFO, W.R. Newman & Associates, Nashville, TN
On February 16, 2023, Kathy Cole, President at DK Cole Company, presented John Moran with the Chairman's Challenge Coin.

When asked why Kathy chose John she said, "John has been a driving force for the Middle Tennessee Chapter since 2011. In fact Kaylah White, our administrator, says he is the very "heart" of the chapter. His commitment to the success of this chapter is absolutely extraordinary. He is a Past President and has chaired nearly every committee or initiative in the Chapter. He was a founding Co-Chair of the Southeast Regional conference. At the national level, he has been a member of the executive committee, has chaired the Chapter Connection program, served on the Chapter Resources committee, and served on the national strategic planning task force. I'm sure there is more I missed. His energy, commitment, and expertise are invaluable to CFMA."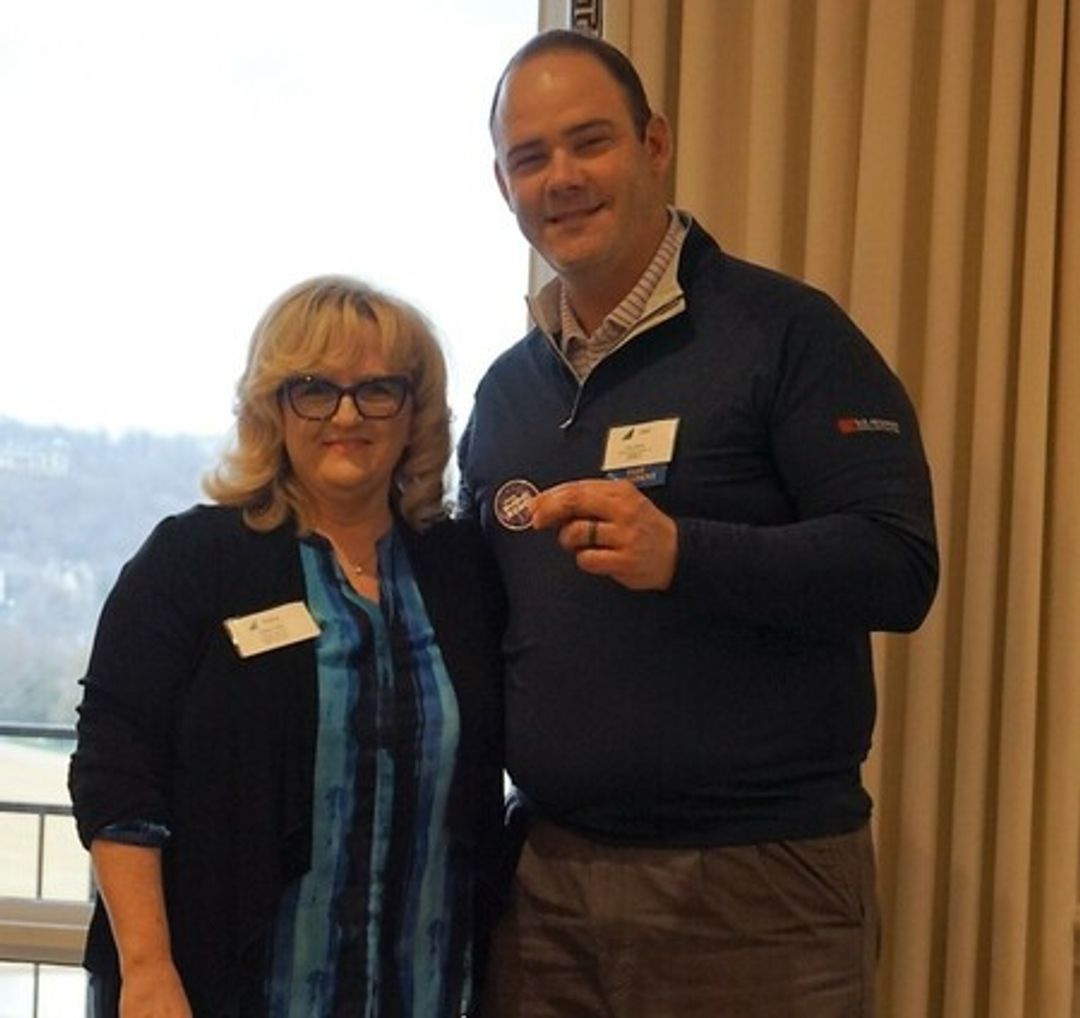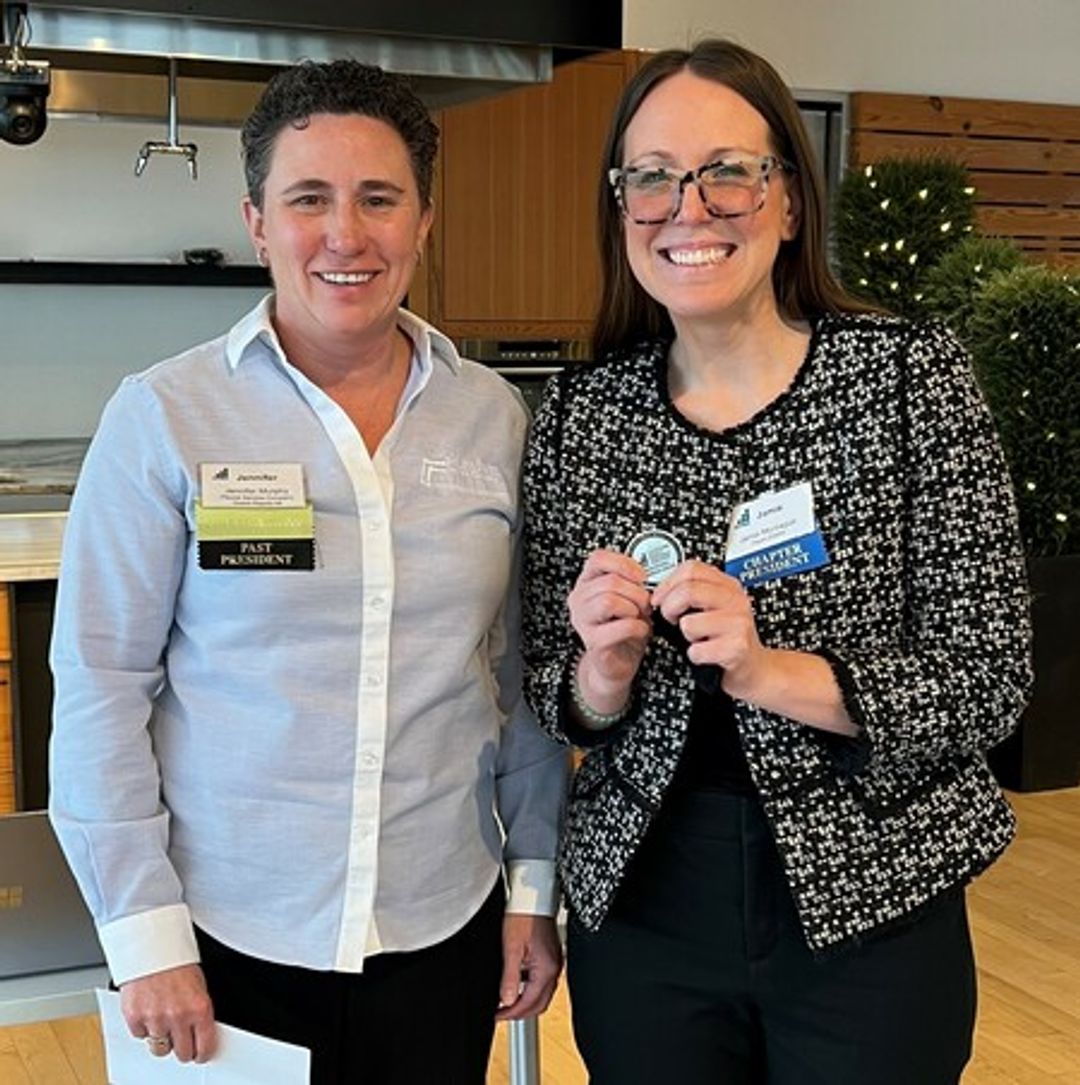 Jamie Montague, Controller, Feyen Zylstra, Grand Rapids. MI
On January 26, 2023, Jennifer Murphy, CFO at Pleune, presented Jamie Montague with the Chairman's Challenge Coin.

When asked why Jennifer chose Jamie she said, "I chose Jamie for the recipient of the Challenge Coin due to her passion and energy for CFMA. In her role as current Chapter President, her announcements at meetings are so full of energy and excitement about CFMA, you can feel her energy spreading in the room. She has been leading the Great Lakes Regional Conference Planning Committee. She was not afraid to bring new and old leaders from our chapter together for strategic planning. She showed courageous leadership by bringing up topics for conversation that might have been uncomfortable at first, but that needed to happen to not keep the chapter from continuing to grow and prosper and be attractive to all members (old and new). Seeing Jamie's enthusiasm, engagement, and passion for CFMA is very encouraging for our chapter and for CFMA overall."
Nick Costa, Surety, Berkshire Hathaway Specialty Insurance, Orlando, FL
On January 25, 2023, Margie Morris, Partner at Guignard Company, presented Nick Costa with the Chairman's Challenge Coin.

When asked why Margie chose Nick she said, "Nick became a member of the Central Florida Chapter and jumped right into the hardest job. Planning Committee for our chapter. He has put in many hours and has demonstrated excellence and patience with the many decisions that need to be made."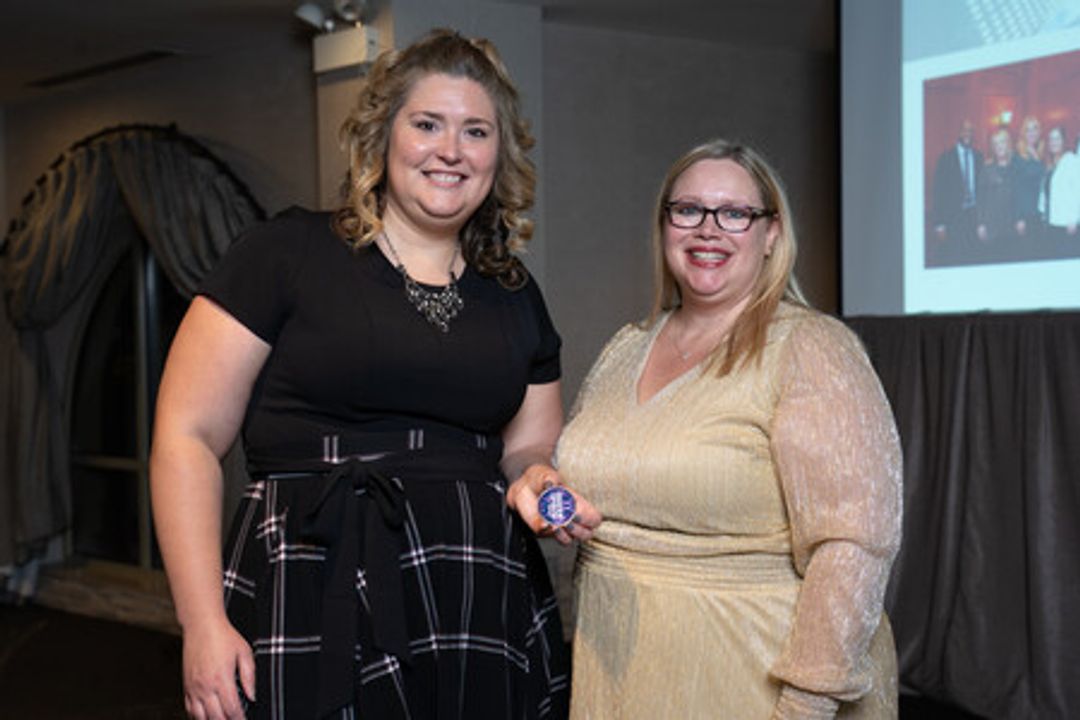 Natalie Dienethal, Federal Controller, Pernix Group, Inc., Lombard, IL
On Oct. 21, 2022, Jen Haub, Assistant Controller, Skender, presented Natalie Dienethal with the CFMA Chairman's Challenge Coin.

When asked why Jen chose Natalie she said, "Natalie has stepped up for the Chicago chapter in a number of ways. She serves on the Board of Directors, the Program committee, and is the chair of our Next Gen committee. Natalie has been instrumental in reinvigorating our newly renamed Next Gen committee, most recently by collaborating with our Outreach committee for a joint event to volunteer at the Greater Chicago Food Depository. She has served as a program champion and this past spring had to unexpectedly step up to moderate a program. She handled this situation with grace, even though I know that getting up in front of a crowd is far from her favorite activity!"
Sarah Stewart, Director of Finance, Gorski Engineering, Inc., Collegeville, PA
On Dec. 6, 2022, Kevin Foley, CPA, CCIFP, CFO, Madison Concrete, presented Sarah Stewart with the CFMA Chairman's Challenge Coin.

When asked why Kevin chose Sarah he said, "Sarah as a Board Member of the Philadelphia Chapter led the committee that was formed to develop and implement a "Leadership Acceleration Program" which they sold out for their first program. The level of depth in the program and the effort of the group has been tremendous and Sarah's leadership and imaginative approach helped make it happen."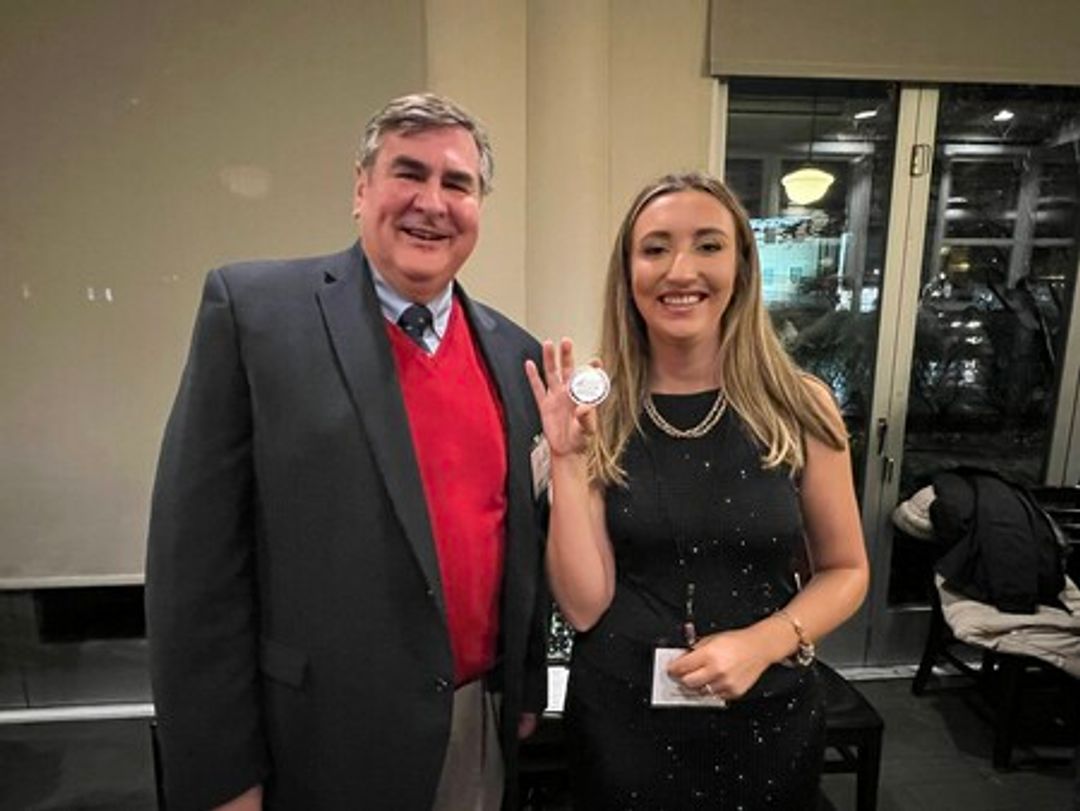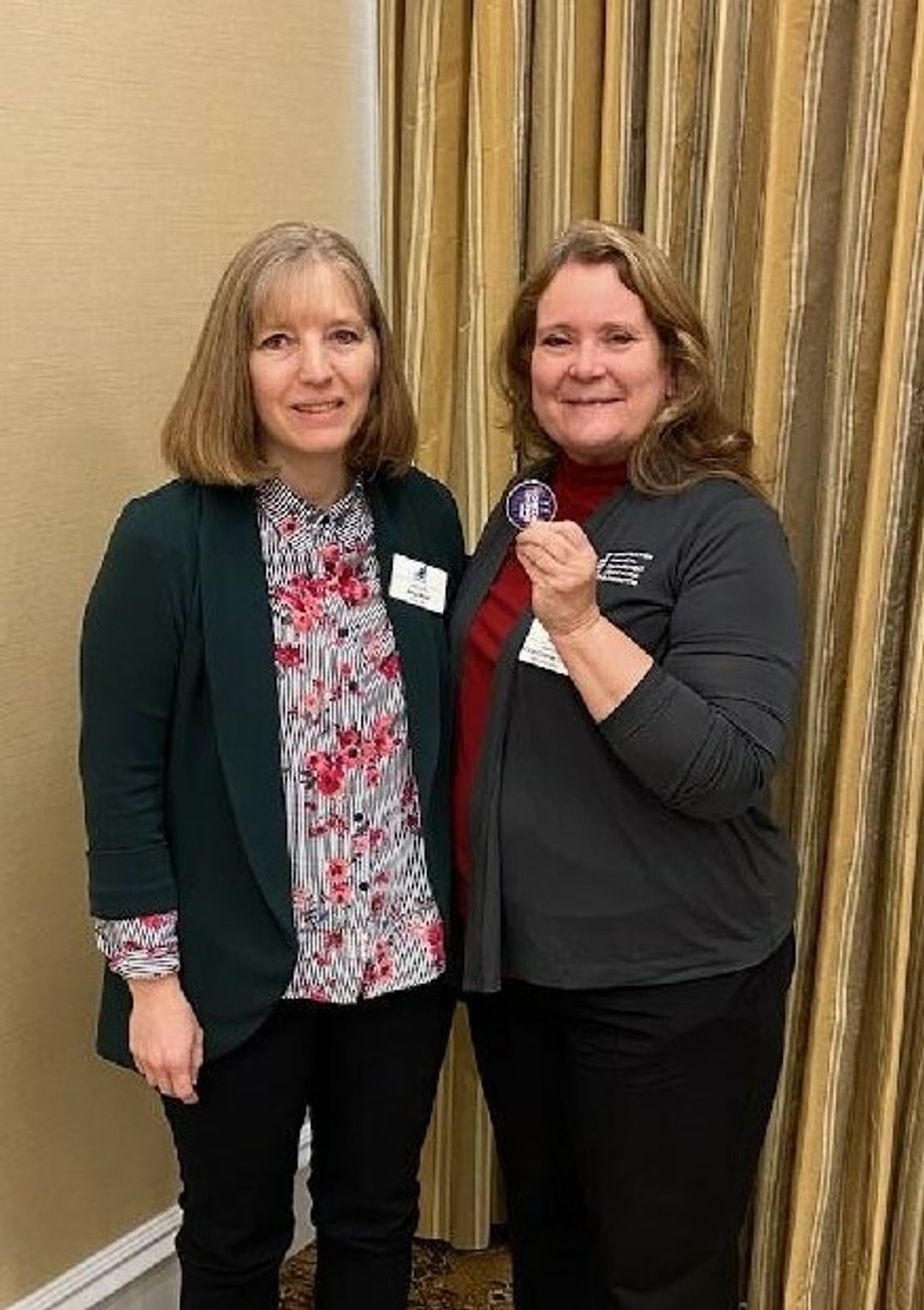 Amy Wolf, Controller, Boyer, Inc, Houston, TX
On Nov. 19, 2022, Caryl Coronis, CPA, CCIFP, CFO, NBG Constructors Inc., presented Amy Wolf with the CFMA Chairman's Challenge Coin.

When asked why Caryl chose Amy she said, "Amy went above and beyond when leading two Houston Chapter initiatives at the same time. She helped to organize and set up the logistics for our new member event and designed, gathered, and filled the Welcome Bags on behalf of the Houston Chapter for the CFMA Lone Star Conference. She joyfully stepped up and volunteered many hours of her time to contribute to the success of both events. Joe McLaughlin, CCIFP, CPA, the originator of the Chairman's Challenge Coin, was in Houston and joined in congratulating Amy on her recognition."
Christian Geismann, Schuchart Corporation, Seattle, WA
On September 26, 2022, Elaine Ervin, CPA, Construction National Practice Leader, Moss Adams, LLP presented Christian Geismann with the CFMA Chairman's Challenge Coin.

When asked why Elaine chose Christian, she said "Christian has demonstrated his dedication to CFMA and the pursuit of excellence within the organization. This has been demonstrated by his leadership with the Puget Sound Chapter, his participation on national committees, and most recently, the resumption of the PNW Regional CFMA Conference that had been on hiatus for a number of years. The event was well attended and provided excellent content and networking opportunities. I appreciate Christian's efforts and look forward his continued contributions at both the local and national level."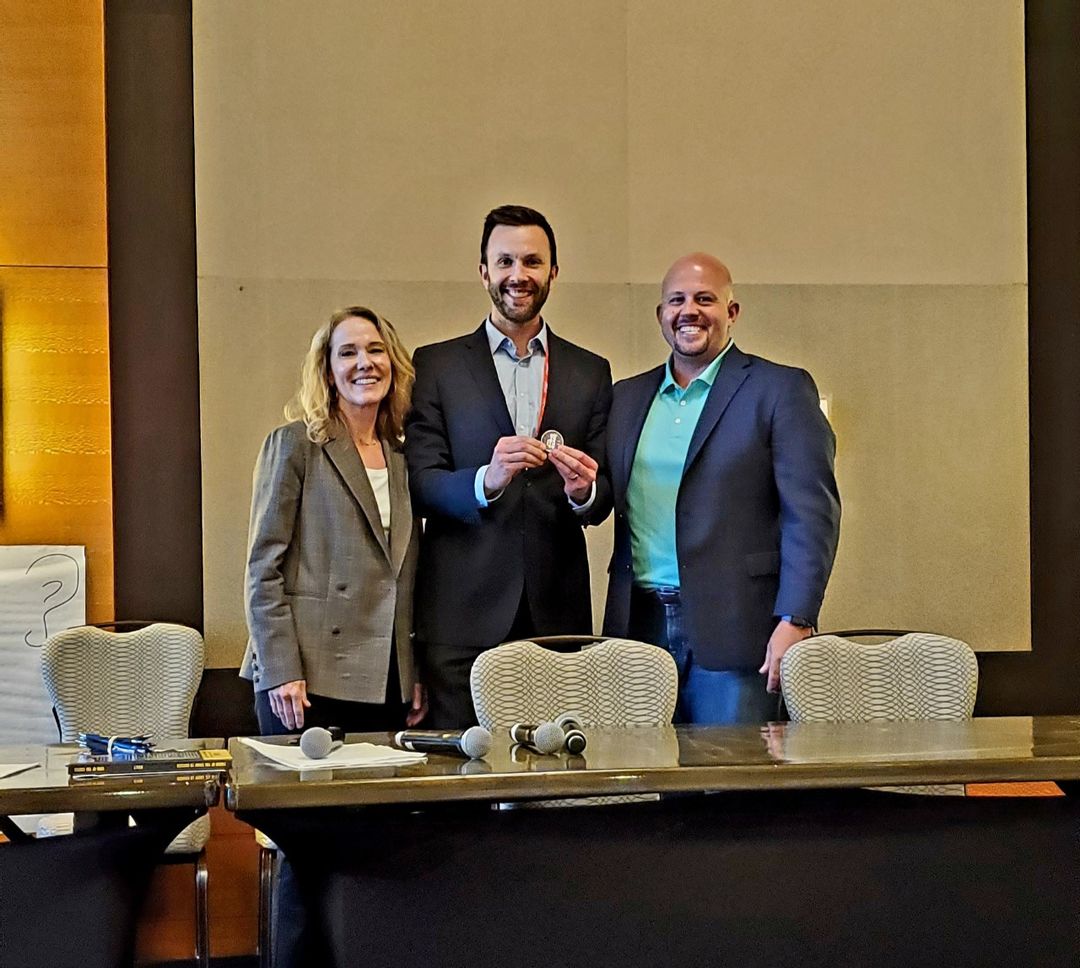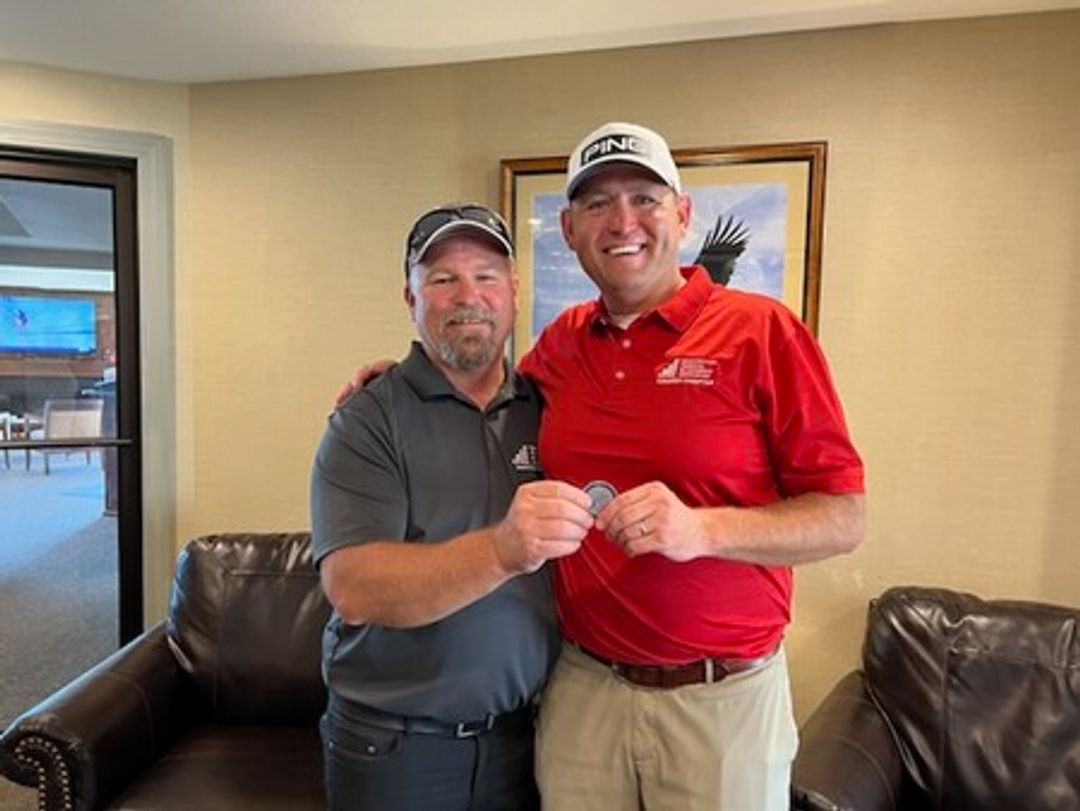 Matt Cash, CPA, CCIFP, Managing Director, FORVIS, Springfield, MO
On Sept. 8, 2022, Bryce McDermott, CPA, CCIFP, CFO at Branco Enterprises Inc., presented Matt Cash with the CFMA Chairman's Challenge Coin.

When asked why Bryce chose Matt he said, "Matt was a member of our steering committee when we were a chapter in formation and served as our first Board President. He continues to serve on the Board and has maintained the role of Treasurer for the past four years. Recently, our golf committee chair (Dustin Campbell) raised his hand and asked for help with (or someone to take over, actually) the golf committee. Without hesitation, Matt stepped forward and under his leadership and hard work, we had the highest turnout we've ever had for our golf tournament. Nationally, Matt has served as a facilitator for a Peer Group and most recently began serving on the Next Gen Committee. Additionally, Matt is in CFMA's inaugural 40 Under 40 class. We have several outstanding and long-serving members of our local chapter, but it is with absolute certainty that I say the Ozarks Chapter would not be where it is today without the efforts of Matt Cash."
Christina Chifici, Director in Charge, LaPorte, New Orleans, LA
On August 5, 2022, Jason Myers, CPA, National Industry Leader - Construction & Real Estate at FORVIS, presented Christina Chifici with the CFMA Chairman's Challenge Coin.

When asked why Jason chose Christina he said, "Christina has been a tremendous giver to CFMA and more specifically the regional conference in Louisiana and has served in a leadership role for many years. This regional conference is always a top-notch event that brings strong content and networking for the CFMA members in Louisiana. Keep up the great work!"