With megaprojects expected to increase in size and number over the next decade, how will your company compete in a new mega world? California's high-speed rail project. The Al Maktoum International Airport in Dubai. The London Crossrail Project. Aside from being high-profile in nature and built to benefit many different users, these projects all fall into the elite category of "megaprojects," or large-scale construction projects whose budgets exceed $1 billion.
These projects are monumental in nature. California's high-speed electric rail line will take nearly 15 years to complete; the Al Maktoum International Airport in Dubai will extend more than 21 miles and be able to handle 200 airplanes at once; and the $23 billion London Crossrail underground train will connect 40 stations.1
Other examples of some of the world's largest megaprojects include the $11 billion Mercedes-Benz Stadium (home of the Atlanta Falcons), the $25 billion Hudson Yards in New York, and the $5.4 billion Panama Canal expansion.
Seen as symbols of prestige and progress, megaprojects help local and national economies create employment, support urban development, and even spark growth in other industries.2 From high-speed rail lines to airports to high-rise buildings, these projects have a major impact on the engineering and construction (E&C) industry and on the world as a whole.
320 & Counting
At least 320 megaprojects have been awarded in the U.S. since 2012, with a total project value of more than $700 billion. Another 670 megaprojects are currently in the planning stages, representing a future investment opportunity that will reach $2 trillion.
As reported in "Megaprojects: Changing the Conversation" (www.fminet.com/wp-content/uploads/2019/09/Megaprojects.pdf), most of these planned megaprojects are expected to be built in the South and West, with three states accounting for 40% of the total starts value – New York (15%), California (15%), and Texas (10%).
Between 2012 and 2018, historical megaproject construction put in place (CPiP) represented only 1.8% of total CPiP, or just over 4% of 2018 CPiP. However, within the next decade – and likely within the next five or six years – annual megaproject spending is expected to near or exceed 20% of total CPiP, which is a dramatic shift for the E&C industry.3
Their huge budgets aside, these large undertakings differ from traditional construction projects because they are usually high-profile, strategic projects that impact thousands (if not millions) of people on a daily basis. With such a large scale, these projects also require a higher degree of coordination and organization than the typical construction initiative. Most are approached in phases, with the final milestones not met until years or decades after the initial groundbreaking takes place.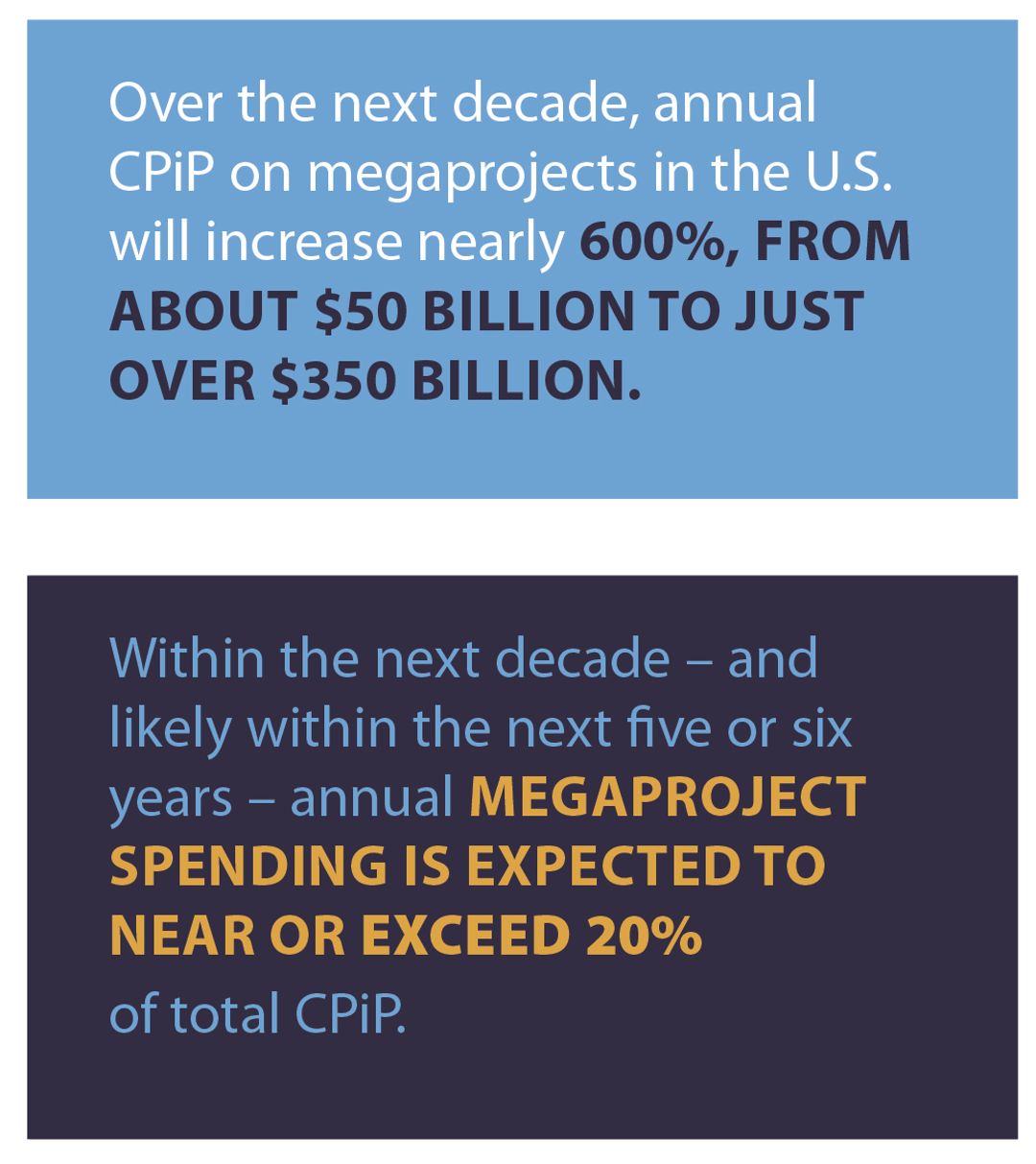 Megaprojects are not always cast in a positive light. The shortcomings and poor success rates of these projects have been well-documented for decades. Prominent E&C players are exiting fixed-price contracting as a business-growth strategy in the wake of megaproject risk imbalance.4
Despite these challenges, megaprojects are constantly growing larger and increasing in number and complexity. Between 2013 and 2018, the annual value of U.S. megaproject starts increased from 3% to approximately 33% of all U.S. construction project starts, according to FMI. This trend will continue over the next decade with annual CPiP on megaprojects in the U.S. increasing nearly 600% – from about $50 billion to just over $350 billion.