10 Questions Leaders Must Ask Themselves
Suicide Prevention is a Health & Safety Priority in Construction: A Call to Action for Construction Company
Owners, CEOs/Presidents & C-Suite Leaders
Too often, the construction industry's "culture of safety" is limited to the physical aspects and neglects the psychological aspects. According to a recent article in The New York Times, between 1999-2014, there was a 22% increase in mortality among white, middle-aged men with less than a college education; suicides, opioid overdoses, and alcohol abuse were listed as the causes of this increased mortality.
The subpopulation most likely to die by suicide – white, working-age men – dominates the U.S. construction workforce. According to a report recently released by the Centers for Disease Control (CDC), workers in construction have the second-highest suicide rate (per 100,000 workers) of all occupational groups.
The Need for Suicide Prevention in Construction
According to Clare Miller, Director, Partnership for Workplace Mental Health, American Psychiatric Association Foundation:
"The workplace is a critical place for changing how our country addresses mental health. The Partnership for Workplace Mental Health recognizes that the U.S. construction industry is quickly becoming a leader in the area of suicide prevention. We believe that this [article] will help owners, managers, and supervisors to increase awareness and prevent suicide. We must change the culture to recognize that reaching out for help is a sign of strength, and employers can play a powerful role in delivering that message.
"The time for action is now, and thanks to this resource, even more owners, managers, and supervisors are equipped to begin efforts at their companies."
Question 1: Why can't you & your company afford to ignore mental health? It's time to address mental health promotion and suicide prevention.
Up to 25% of the U.S. population experiences mental illness
at any given time, and nearly two-thirds of people with diagnosable mental disorders do not seek treatment. Typically the delay for mental health care lasts a decade or more, during which time disorders can worsen. Additionally, untreated or undertreated mental health issues are costly to workplaces.
Investing in mental health and substance use disorders yields positive return on investment compared to the economic impact of absenteeism, presenteeism, and loss of productivity resulting from untreated mental health conditions.
Unresolved grief and shame exists among employees who have been impacted by suicide – either by a loved one or a coworker's suicide or suicidal behavior, or they struggle with their own suicidal thoughts.
Before you can start the conversation and be a champion of cultural change, you must first assess your own readiness and reactions to the issues surrounding suicide. Begin your assessment by reading A Construction Industry Blueprint: Suicide Prevention in the Workplace that can be found at www.cfma.org/suicideprevention.
Question 2: How do you feel after reading a construction industry blueprint: suicide prevention in the workplace?
Ambivalent? Anxious? Angry? Concerned? Hopeful? Dismissive? Uncertain?
Reflecting on your initial reaction to a construction Industry Blueprint: Suicide Prevention in the Workplace may provide insight on your core beliefs about this difficult topic, as this seminal document may be the first you've read about the risks of suicide that could affect your workforce.
Given that suicidal thoughts and many behavioral disorders are invisible, coupled with the fact that most people do not talk about how they have been affected, you may not know the extent to which your employees have been impacted by suicide or mental health issues.
Your stance on this topic will shape how others in your organization respond.
Question 3: Are you compelled to take action to promote mental health & speak out for suicide prevention in the workplace?
Leaders who are "vocal, visible, and visionary" step boldly into this arena.
The notion that business leaders are supposed to take action may seem irrelevant or overwhelming. It's common for leaders to assume that mental health professionals are addressing these personal issues and that they should be handled outside of work.
The truth is everyone can play a role in suicide prevention, and leadership engagement is critical in guiding the cultural norms that make suicide prevention efforts successful.
Leaders set the tone for mental wellness and the importance of psychological safety through their words, policies, and actions. Rather than waiting for tragedy to strike, they want to be the first to try and prevent it.
The reward for this courage is felt almost immediately, as people tend to come forward and offer their own personal struggles or losses. Then, peers "lean in" to learn more and a domino effect ensues.
Leaders who publicly support their employees' actions to take care of their mental health greatly influence the rest of the workforce. While there is no harm in taking the lead, there is great risk in holding back.

Question 4: How do you know if your employees or their families are struggling with mental health?
Needs assessments and ongoing evaluations are critical to the success of mental health promotion and suicide prevention strategies.
Before implementing programs or training sessions, listen first. Needs assessment practices such as focus groups, in-depth interviews with key stakeholders, surveys, and data analysis (e.g., Employee Assistance Program (EAP) usage, absenteeism, etc.) help guide strategy direction and create tremendous buy-in with your team.
After a campaign, training, or policy change has been made, leaders should help ensure that the resulting outcome accomplished the intended goal.
Ongoing measurement of employee satisfaction and changes in knowledge, attitudes, and behavior will guide the future evolution of your company's program.
One tool to help assess your workforce is the Working Minds Workplace Quiz at www.workingminds.org/quiz.html. Also, if you are concerned about yourself, an employee, or a family member, check out Man Therapy's 20-Point Head Inspection at mantherapy.org/head-inspection/question.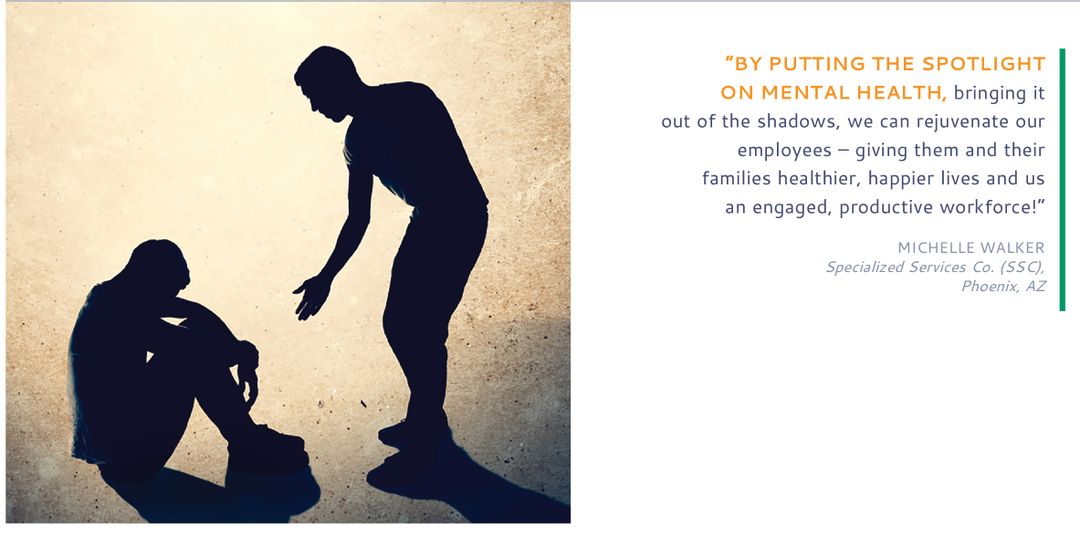 Question 5: Does your company have an employee assistance program (EAP)?
An EAP's role is to promote mental health awareness in your workplace.
An EAP is a necessary component of a comprehensive and sustained mental health promotion and suicide prevention plan. Not only for larger companies, EAP services can be extended in cost effective ways to smaller employers that are often hit harder when an employee is experiencing overwhelming distress.
Unfortunately, most employees are not even aware of their EAP benefits. To help employees cope with overwhelming life challenges, substance use disorders, and other mental health conditions, ensure they are fully aware of their EAP benefits. While EAPs exist to help individual employees, these services are not generally suited to lead a cultural change in your company.
It is critical to provide continuity of behavioral medical care once it begins, so be sure to evaluate any potential insurance gaps that may exist between your company's EAP and your employees' needs for ongoing behavioral health services.
You don't want the increased cost or a lack of insurance coverage for out of network service providers to derail an employee's decision to seek or continue care.
Considerations for EAP Selection
When selecting an EAP vendor, consider their professionals' experience, confidence, and competence in suicide risk assessment, management, and recovery.
Some questions to ask a potential EAP vendor include:
Are your mental health counselors within the network of your company's (or labor unions') health care insurance plan?
How comfortable are your providers in working with someone experiencing suicidal thoughts?
Do your providers undergo continuing education to learn state-of-the-art suicide risk assessment and management strategies?
How do you treat and support people with suicidal thoughts or suicide grief effectively and collaboratively?
Question 6: How can your company integrate mental health promotion & suicide prevention into its overall health & safety culture? And, into its wellness and employee health benefit and insurance programs?
Leaders who are truly intent on creating lasting change in their efforts to develop a robust mental health promotion and suicide prevention program will look beyond one training session or single awareness campaign.
Rather, they will look for innovative ways to incorporate changes so that suicide prevention and mental health promotion becomes woven into the company's health and safety processes and therefore more likely to be sustained.
Pioneering leaders have incentivized mental health practices through wellness programs. Others have promoted the messages of suicide prevention in daily toolbox talks or have found ways to integrate supervisory training on having difficult conversations about mental health into new manager orientations and ongoing leadership development training.

Question 7: How can you help implement a mental health promotion & suicide prevention communication plan to support a cultural shift in your company? Could your company promote these topics in its newsletter? Website? Bulletin boards? Social media?
To create a cultural shift throughout your company, a long-term communication plan with multiple tactics to support a company's messaging is required. Develop a coordinated strategy that promotes key resources along with hopeful, empowering messages to encourage employees to both seek and give help.
Leaders must be visible and vocal about sharing why mental health promotion and suicide prevention are meaningful to both the company and to them personally.
Leaders with "lived experiences" and a willingness to share their testimonies have an unparalleled effect on a workforce. This helps create a culture of caring and empathy throughout the organization.
Question 8: What obstacles need to be overcome to successfully address mental health & suicide prevention? Money, time, and competing priorities are often the masks we hide behind.
The biggest obstacle that companies usually face is overcoming the stigma associated with suicide and mental health. Misperceptions, myths, and marginalization that result in fear can prevent people from doing the right thing. This stigma can be present at all levels of a company, so the best thing leaders can do is to correct their own misinformation.
Just like everyone else, leaders have been conditioned by a culture that creates images of people with mental health conditions and suicidal thoughts as dangerous, unpredictable, and unreliable.
To combat this, spend time with people who are living with these conditions and become familiar with the mental health resources available: call the National Suicide Prevention Lifeline, meet with your EAP provider, and get a field tour of local mental health and addiction recovery treatment centers.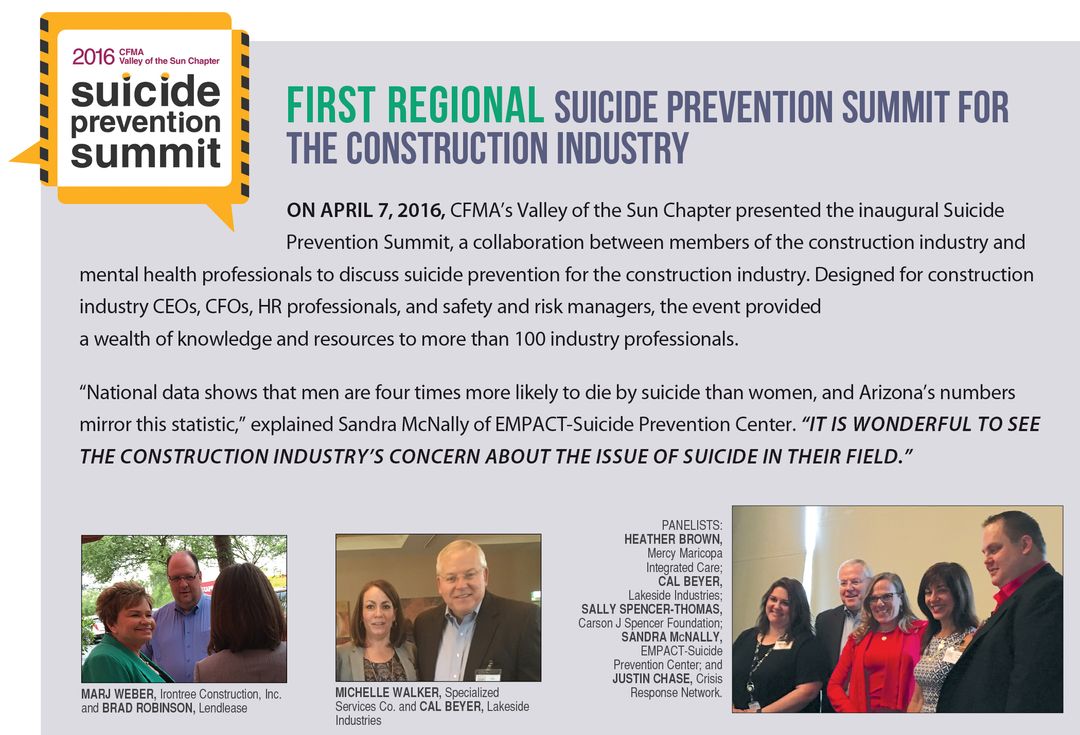 Question 9: What are your peers doing to create awareness for mental health & suicide prevention? Are you willing to reach out to at least one other construction industry leader?
The best way to spread this work is peer to peer, leader to leader. By creating a community that is leaning in to this topic, we can all learn from each other and share best practices. If you are ready to take expanded action, consider hosting an executive roundtable of construction companies and suppliers within your region to discuss this topic.
Other examples of approaches to spread the word through your leadership network include the following avenues for an expanded dialogue:
Trade/industry association presentations or training programs
Articles in industry publications/newsletters
Professional peer or industry group discussions
Insurance captive risk management roundtables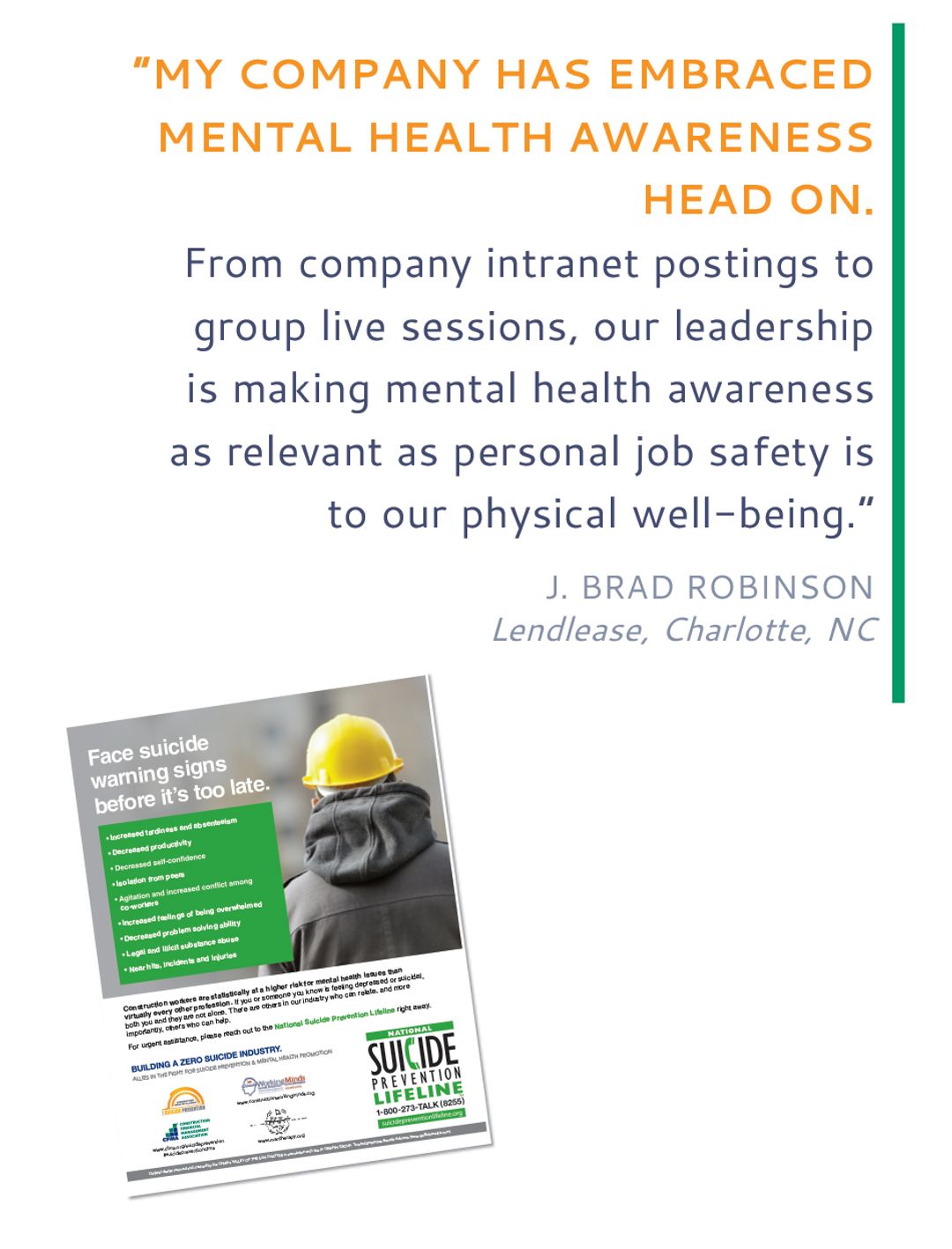 Question 10: What resources exist to help your managers & supervisors address mental health & suicide prevention? Construction + Suicide Prevention: 10 Action Steps Companies Can Take to Save Lives s3.amazonaws.com/rdcms-cfma/files/production/public/ConstSuicPrev10ActionSteps.pdf
Mental Illness & Suicide: Break the Silence & Create a Caring Culture www.cfma.org/content.cfm?ItemNumber=3999
Economic Impact of Suicide Prevention Strategy www.ncbi.nlm.nih.gov/pmc/articles/PMC4901996
A Call for Help
www.constructormagazine.com/a-call-for-help/#.V-1P5NzbTVd
Addressing Mental Health Issues on the Job Is the New Imperative www.ishn.com/articles/104135-addressing-mental-health-issues-on-the-job-is-the-new-imperative?v=preview
A Construction Industry Blueprint: Suicide Prevention in the Workplace (reprinted with permission)
s3.amazonaws.com/rdcms-cfma/files/production/public/Suicide%20Prevention%20in%20the%20Workplace.pdf
Suicide Prevention Finds a Home at RK www.workplacementalhealth.org/Publications-Surveys/RK-Promotes-Mental-Health.aspx
A Manager's Guide to Suicide Postvention in the Workplace (reprinted with permission) s3.amazonaws.com/rdcms-cfma/files/production/public/Managers-Guidebook-To-Suicide-Postvention.pdf
Additional Resources for Construction Company Leaders:
actionallianceforsuicideprevention.org
www.carsonjspencer.org
www.cdc.gov/mmwr/volumes/65/wr/mm6525a1.htm
www.cfma.org/suicideprevention
www.constructionworkingminds.org
helpyourselfhelpothers.org
mantherapy.org
www.mentalhealthfirstaid.org/cs
www.suicidepreventionlifeline.org
www.workingminds.org
www.workplacementalhealth.org
Editor's Note: This article has been reformatted from its original version found at www.cfma.org/suicideprevention.
Copyright © 2016 by the Construction Financial Management Association (CFMA). All rights reserved. This article first appeared in November/December 2016 CFMA Building Profits magazine.